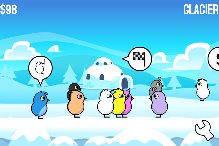 The Glacier is the fourth land your duck(s) will come to in Duck Life 4. Here they learn how to do Climbing training.
Just like the other worlds your duck(s) will have come to, there are three training minigames to teach your duck climbing.
The first training is using the arrow keys to climb your duck up ladders, as the screen is moving down. The aim is to stay on the screen as long as you can.
The second training is timed, and your duck has one minute to climb as high as it can (using the up arrow key), and hide in caves when there is an avalanche warning.
The third training is very similar to the Climbing training on previous games of this series, where your duck has to change sides (using the arrow keys) of the screen to avoid obstacles as it climbs.
There are three ducks here that will want to race you. The first duck is black and white, and if you win his race, you get some money. The grey duck will give you a tournament ticket, and on some websites where this game is found, there is a glitch where this duck will stop and your duck will win, no matter where they were in the race. The third duck will want you to train another duck in Running, Swimming and Climbing, but have level 0 Flying, or otherwise he won't race you. This last race is not compulsory to continute with the game.
Community content is available under
CC-BY-SA
unless otherwise noted.