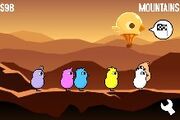 There is no tournament.
The mountains stage is the third stage in Duck Life 4. It is here that you learn the Flying skill.
RACING
In the mountains, you can race three ducks, two will give you 100 coins while one will give you a tournament ticket.
Green duck - My race has running, flying, and swimming! Can you believe it?! I'm a very well-rounded duck. Oh, I found this tournament ticket on the floor. You can have it if you win.
Yellow duck - Are you brave enough to enter my race?! If you can't fly very well your chances of making it to the finish are quite slim
White Duck - If you want to race me you have to be good at flying! I don't like racing people below me. But it's fine if you want to be beaten.
SHOP
Skill Seed - $15
Hairstyles - $30 each
Champack egg - $75
Betel Nuts egg - $75
Luffa Flower egg - $7 5
Bael Fruit egg - $75
Straw egg - $75
Soft Light egg - $75
Knit Hat - $50
Knight helmet - $50
Pilot Hat - $50
Red Bow Hat - $50
Tuxedo - $50
Knit Shirt - $50
Knight Armor - $50
Pilot Uniform - $50
Red Bow Dress - $50
Community content is available under
CC-BY-SA
unless otherwise noted.